Healthcare Organization's Leadership Pivots Toward Transformation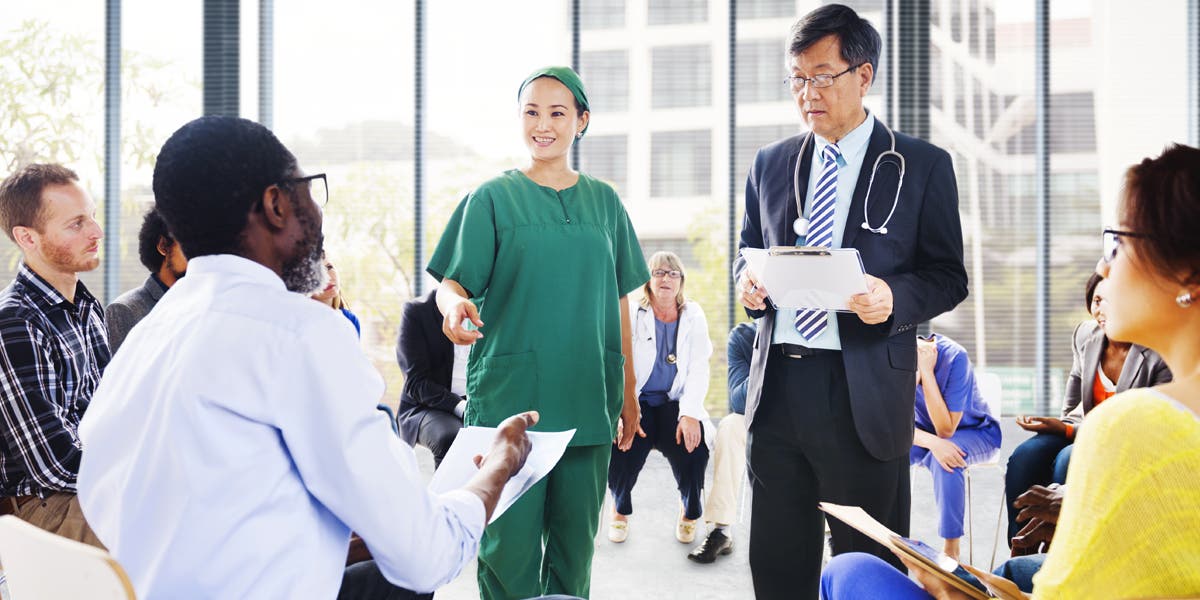 The Need
Build executive team and board leadership capability to pivot toward transformation.
The Solution
Assessment process to gather actionable data on board and executive team, executive coaching, facilitating accelerated individual development.
The Result
CEO onboarded successfully and an accelerated growth and development process installed for the entire senior leadership team.
Addressing Urgent Problems Amid Constant Disruption
A healthcare system found itself in a position many, if not most, organizations face in today's environment—constant disruption.
The organization had been on a journey for several years to stabilize as a unified healthcare system that included a number of previously independent hospitals, but sudden tremors—the unexpected departure of the CEO, the resignation of several key executives, and declining results in several patient care metrics—triggered a sudden erosion in employee engagement, and a culture that was trending downward.
Amid these challenges, the organization was performing well financially and had managed to make solid progress toward an effective, outcome-oriented system. But even despite the strong profits, the board of directors and senior leadership team saw no alternative other than to urgently address the emerging problems and to pivot toward a transformation.
Accelerating Organizational Change with Surveys and Assessments
With many of the recent disruptions stemming from the senior-most level of leadership, the team itself wanted to begin its own transformation efforts and partnered with DDI to build a process to gain data and insights from the board of directors, CEO, and senior management team into the strengths and development gaps of both the board and senior team.
DDI worked side-by-side with the board, C-level team, and new CEO, to administer surveys and direct confidential, one-on-one interviews with each leader to understand the board and senior team's strengths and critical needs for development. DDI then benchmarked these results against standard board and senior team effectiveness criteria, as well as research-based leadership competencies. The feedback was reported back in the form of both group-level results, as well as confidential, personalized results for each board member and senior team member to use for their own development.
Next, DDI created a customized coaching engagement to help the new CEO rapidly gain a footing in his new role. A key component of this engagement was a structured evaluation of senior team performance and accountabilities against the near-term strategies that the organization had adopted. Using a set of proprietary, team-focused criteria to evaluate the team's assets and vulnerabilities against the strategic plan, the new CEO was able to rapidly gain perspective into the alignment of accountabilities and determine the priorities he would need to adopt to facilitate the needed turnaround.
The second component of the CEO's onboarding program focused on his personal leadership approach, and leveraged coaching to help him evaluate his role, personal leadership tendencies, and most critical business requirements so that he could determine where to spend time, where to weigh-in (or hold back), when to collaborate (and whom to get close to), and when and whom to give more freedom and autonomy. This perspective-building process helps new CEOs quickly and confidently take action that balances speed and urgency with respect for culture and pre-existing vectors of effort.
Making Development More Personal
Lastly, with strategies in place to ensure the successful preparation of the board and the CEO to tackle new challenges, the health system worked with DDI to facilitate an accelerated growth and development process with the rest of the senior leadership team. An assessment and coaching process was implemented—including multi-perspective assessments, business simulations, individual coaching, and accelerated growth plans—to identify individual and group strengths and gaps and build both individual and team-level approaches to sharpen key leadership skills and enhance the team's collective leadership effectiveness.
The process incorporated a myriad of data and insights to guide coaching and development and make direct connections between leadership approaches and key strategic priorities and initiatives. With this added insight and more precise leadership guidance, the organization was able to better align development to business goals and benchmark its capabilities against other first-class healthcare organizations to keep its performance—and culture—moving forward.
Working with DDI to gain data and insights about its talent, this organization was able to:
Use surveys and assessments to understand its board and senior team's strengths and critical development needs.
Coach its new CEO to rapidly gain footing in his new role and gain perspective into the alignment of accountabilities.
Facilitate an accelerated growth and development process for its entire senior leadership team.
Learn more about how DDI's Healthcare Leadership can transform your leaders.