The Need
Develop leaders to drive business transformation.
The Solution
Multilevel custom leadership development programs
The Result
40% increase in the use of effective leadership skill
Leaders Needed to Drive Change
65 countries, Fugro unlocks valuable insights from geo-data to help its customers design, build, and operate their assets safely and sustainably.
Fugro is regarded as a market leader in their field; however, feedback from customers has indicated that Fugro can build on this strength to compete even more successfully in an increasingly challenging marketplace heavily affected by the continued low price of crude oil. This worldwide context and customer feedback highlighted that now was the time to change—and the more capable its leaders are to create, communicate, and drive these changes, the more likely Fugro is to win as an organization and stay ahead of future disruptions. As part of its business plan, Fugro combined a keen focus on its strategic priorities—client focus, delivery excellence, and innovation—along with concentrated leadership development efforts to empower its leaders with the skills to create, communicate, and drive change.
"Developing the leaders of today and tomorrow who can drive change while executing our vision and mission has always been a top priority for us," says Andy McNeill, Global Talent Development Manager at Fugro. "We strive to keep our people strategy and L&D programs aligned with our business strategy.
Creating Stronger Leaders at Every Level
To support its strategic objectives, Fugro partnered with DDI to build and execute a customized leadership development and succession program which included three custom programs for leaders at three distinct leadership levels. These programs include Growing My Business (senior leaders), Growing My Managers (mid-level leaders), and Growing My Team (first-time leaders).
The learning experience for each program is spread out over several months, ensuring time for skill application, practice, and feedback. There was a critical need for a different design and delivery to truly bring about impact—including job relevance, personal motivation, involving managers of participants, and ensuring follow up on learning. The program's components are a mix of virtual and face-to-face classroom sessions, providing Fugro leaders with flexibility to learn while also managing their day-to-day responsibilities. Follow-up activities include e-learning and simulations where participants practice their coaching and communication skills, including a feedback session on what they did well, and what they can do differently.
Following pilot sessions, a robust evaluation was undertaken to seek quantitative and qualitative feedback on whether the program met its objectives and what suggestions learners had to improve or enhance instruction.
The programs are now discussed regularly during Fugro's performance and development reviews, and many future candidates, as well as their development goals, are identified during these meetings, ensuring the program objectives align to the overall business planning and strategy. They also underpin elements of succession planning, which is a high priority for the management board. Fugro has continued these programs through, arguably, one of the organization's most challenging periods, which serves as testimony to the value the business places on these programs to help develop its leaders, navigate the current climate, and prepare for the future.
Positively Impacting the Business in Many Ways
Hundreds of first-time, mid-level, and senior leaders have completed at least a portion of the development experience. The quantity of leaders passing through the program is impressive, but the results the organization is most proud of are the improvements in critical talent and business outcomes.
Fugro credits DDI's Impact Evaluation Survey for its ability to continuously improve course offerings based on survey feedback, prove the program's ROI, as well as the impact the courses had on the business and in creating positive behavior change.
The results of the impact survey revealed that nearly 90 percent of leaders had opportunities to apply what they learned back in the workplace—making for an effective team of Fugro leaders and a stronger cohort of associates driving change within the company.
Higher levels of team productivity and efficiency have also been observed. On average, an impressive 40 percent overall rise in personal productivity, attributed to the leadership development program, was reported by participants' team members. And while it is easy to see the connection between increased employee productivity and impact on the business, survey respondents also indicated substantial gains in leader and direct report engagement, morale, and communication—all of which also positively affect the business. For example, nearly 85 percent of direct reports noted that their manager makes them feel more valued and that this increases their likelihood of continuing their career at Fugro. These types of results reduce turnover and the costs associated with recruiting, hiring, and training employees.
Just as important, Fugro's leadership bench strength has increased. Since implementing the leadership development program, nearly 70 percent of participants' managers reported an increase in the overall number of capable leaders within Fugro who can execute on the company's key strategic objectives. Also, 75 percent indicate that leaders' promotability to the next level of leadership has increased as a result of attending the program. Combined with the transformation from a highly decentralized organization into a cohesive company with a clear focus and the ability to deliver integrated service packages, Fugro is now well positioned to capture the upturn in energy and infrastructure markets.
"To achieve these results during a time with such a challenging business environment is something we're really proud of," McNeill says. "It's a testament to the commitment of each of our leaders in embracing the opportunity to grow themselves, accelerate their teams, and impact the business."
Impact On Leaders, Teams, and the Business
Partnering with DDI to develop 440 leaders and above, Fugro has realized the following results: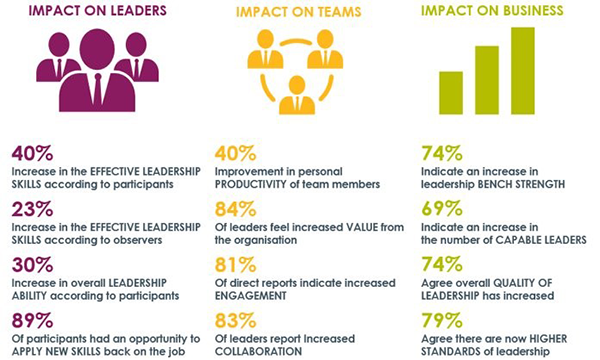 Learn how DDI can help prepare your leaders for your business challenges.
Topics covered in this blog