How to Create an Inclusive Environment: 7 Skills Every Leader Needs
December 23, 2020
Meagan Aaron
Companies might have the right diversity goals. But do their leaders know how to create an inclusive environment?
"Are you sure your leaders really know how to create an inclusive environment?"
I find myself asking clients this question too many times to count. Usually, this conversation occurs after they've told me that they're struggling to reach their diversity goals. And it's really hard to pinpoint where they're going wrong.
Part of the problem is that companies want to make change really fast. Don't get me wrong—goals are a good thing. And diversity efforts are long overdue.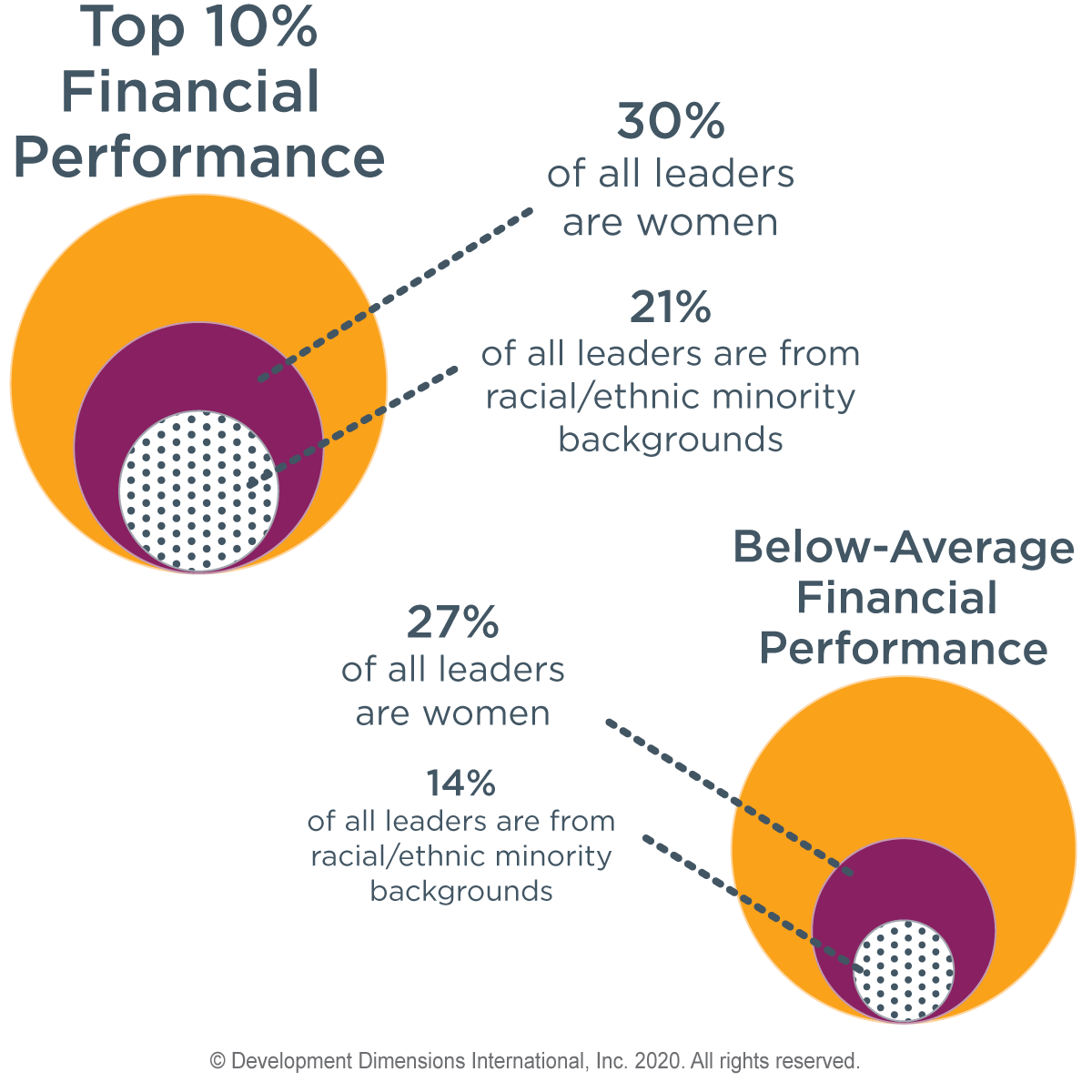 But company leaders need to recognize that a cultural transformation has to take place for diversity to thrive in your organization. Otherwise, your company becomes a revolving door. You can hire diverse talent all you want. But if your leaders don't know how to create an inclusive environment, people will head straight for the door.
That phenomenon plays out clearly in the data. In our Diversity & Inclusion Report 2020, we found that women and minorities were earning more promotions than ever. At the same time, they were also much more likely to say they would need to switch companies to advance. And they aren't waiting around to do it. They were nearly twice as likely as their non-minority peers to say they intended to leave in the next year, especially at higher levels.
In our D&I report, best companies to work for rate 75% higher for inclusion. We found that a diverse, fair, and inclusive culture played a dramatic difference. When leaders acquire those skills, it makes a huge difference, especially when it comes to attracting and retaining talent.
There's no easy fix that will solve the problem immediately. But what's important is that companies begin that forward motion that will sustain success. One of the keys to doing that is teaching your leaders how to create an inclusive environment.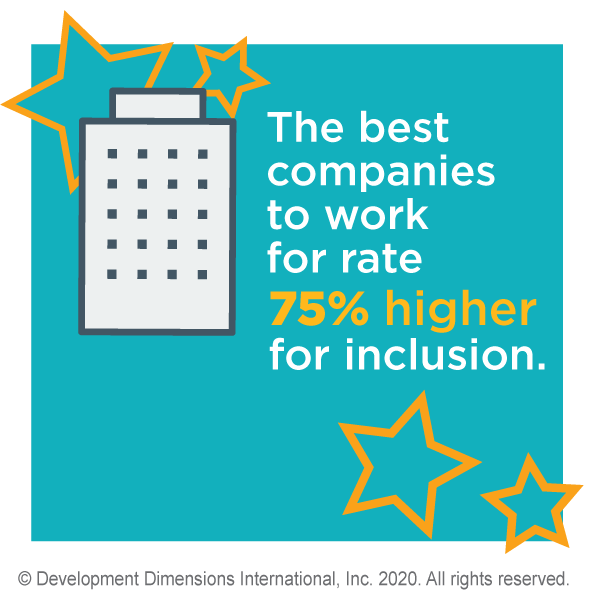 Great Leadership Is Inclusive Leadership
One of the biggest mistakes companies make is divorcing inclusion training from the rest of their leadership development goals. As a result, inclusion seems like something extra, an add-on that's not really a part of leaders' daily work.
But that's the opposite of reality. Leaders don't practice inclusion separate from everything else they do. Rather, inclusion has to be woven into how they operate. It has to be part of the way they communicate, interact, run meetings, give assignments, etc., every single day.
Our research showed that companies rated as "Best Places to Work" scored 75% higher for having an inclusive culture. Why? Because leaders who know how to create an inclusive environment on a daily basis create a better work environment for everyone, regardless of background.
In fact, I'd argue that there's no such thing as a great leader who isn't an inclusive leader. Quite simply, great leadership is inclusive leadership.
7 Inclusive Leadership Skills Every Leader Needs
Usually when I share this perspective as I facilitate courses or coach executives, I see a lot of nodding heads. Generally speaking, leaders want to say and do the right things. But they don't know how to get started.
That's why we did some digging to identify the specific and concrete leadership behaviors that can really make a difference. We surveyed some of our clients to get a better understanding of the challenges they hear from their leaders. And we conducted some additional research and literature review to gain a deeper understanding of what inclusion looks like on a daily basis.
What we found is that there are seven key skills that contribute most heavily to an inclusive environment. These skills will have the most impact as your leaders start learning how to create an inclusive environment.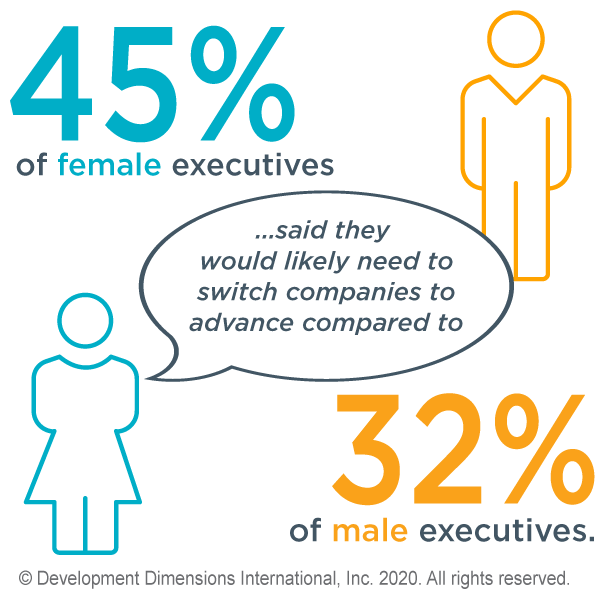 1. Build Empathy
What we hear: When it comes to empathy, leaders just don't "get it."
What to do: Inclusion must start with empathy. Why? Leaders need to be able to put themselves in the shoes of everyone on their team to truly connect with them.
Unfortunately, empathy is rarely a part of how a company operates. More often, company policies and procedures make it nearly impossible for leaders to demonstrate empathy.
To foster empathy in the workplace, leaders need to model it. But for some leaders, it's a challenge to connect with the feelings of exclusion, especially if they've never experienced it themselves. That's why it's so critical that leaders get the ability to experience exclusion and connect to it emotionally.
There are a number of ways to accomplish that, such as reading books or having discussions. One of the most effective ways we've found has been through virtual reality, which lets leaders experience exclusion for themselves.
Our advice: Don't save empathy for a crisis. Start building empathy and connection now so that leaders have a stronger connection before a crisis begins.
2. Communicate Inclusively
What we hear: Leaders avoid tough conversations.
What to do: Daily communication is at the core of creating an inclusive environment. Conversations with others can make or break inclusion. Subtle words and unintended moments of exclusion by a leader or team member can make people feel unwelcome, not valued, and disengaged.
Inclusion must live in the micro-moments of a leader's interactions. Ultimately, leaders should be aware of the words they use and when they use them.
Everyone has personal and practical needs and is seeking for them to be met in daily interactions. In every conversation, leaders should:
Maintain or enhance self-esteem so people feel valued and respected.
Listen and respond with empathy so people feel listened to and understood.
Ask for help and encourage involvement so people feel involved.
Share thoughts, feelings, and rationale to build trust.
Provide support without removing responsibility.
Our advice: The leader's role in how to create an inclusive environment starts with modeling effective communication skills and advocating for inclusive behaviors. The result is people will have a sense of belonging and will be valued for their unique perspectives, contributions, and experiences.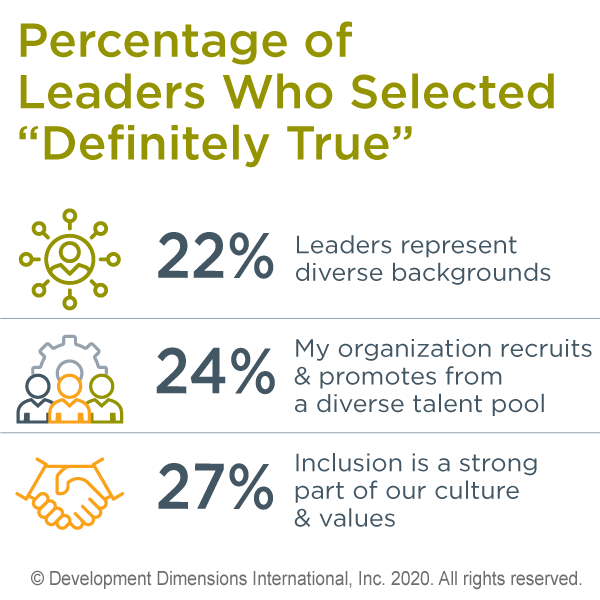 3. Run Inclusive Meetings
What we hear: The same people tend to dominate meetings, while others are excluded, dismissed, or even talked over.
What to do: Inclusion is making sure the right people are involved—for ideation and decision making. We worked with Dr. Steven Rogelberg, a renowned expert on meetings and the science behind them, to reflect on intentional meeting design. Research shows meetings without a clear purpose disproportionally affect those who are underrepresented at work.
Starting your meetings by defining objectives and benefits can mitigate interruptions. With techniques like partner discussions and leveraging the chat function and polling software, people who are more introverted and reserved will suddenly have a voice. To ensure virtual meeting attendees are included and engaged, leaders can share materials beforehand to draw people in to create space for equal airtime in discussions.
Our advice: Creating a set of ground rules provides equal participation opportunities. Unspoken rules now become overtly addressed in the process. Developing these practices for leading effective meetings creates psychological safety and a place where people can be their whole, authentic selves.
4. Delegate for Opportunity
What we hear: Leaders tend to give the important projects to the same set of superstars over and over again.
What to do: Leaders must be more thoughtful about who receives opportunities. This starts with thinking about the capabilities, development needs, motivators, and availability for all team members.
Prior to delegating tasks or assignments, leaders should answer the following questions to guarantee thoughtful decisions are made:
Where am I making assumptions?
Where am I unsure of what someone can do or wants to do?
Our advice: When it comes to delegation, leaders often think it's all or nothing. And because they're busy, they opt for the path of least resistance. But leaders can start to think differently. They can delegate idea generation, tasks, and authority separately. By considering how to allocate the different parts of the project, leaders are forced to assign projects thoughtfully, rather than based on habit or favoritism.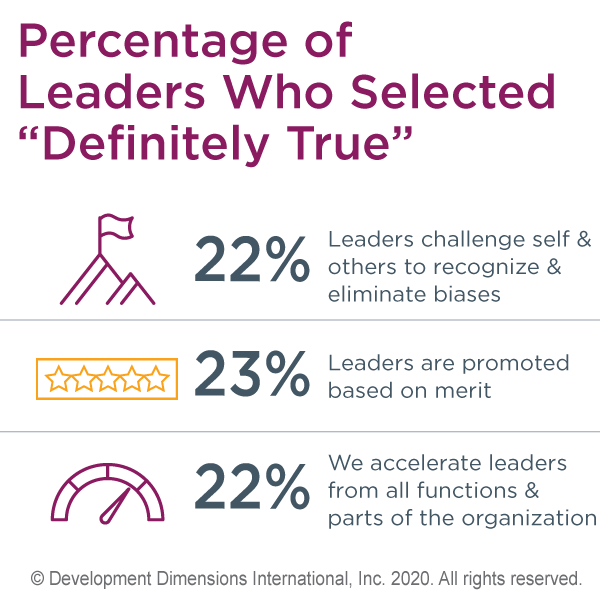 5. Give Honest Feedback
What we hear: Our managers are uncomfortable giving feedback for improvement, especially to people who are different from them.
What to do: In general, a lot of people avoid giving feedback for improvement because they are uncomfortable with conflict. And the problem often gets worse the more different people are because the leader may struggle to predict how the person is going to react. As a result, they simply avoid giving feedback, which cheats their team member out of the feedback they need to grow.
On the flip side, some leaders may be too comfortable giving feedback for improvement. In particular, they may struggle to understand someone's different point of view, and find themselves reacting negatively, without seeing the person's merits.
Ultimately, leaders need to adjust their feedback style depending on the distinct needs of the person. For example, minorities and women frequently report they have less clarity about what is required for success and promotion decisions aren't always clear.
Feedback should be clear, specific, and timely. Leaders can use the STAR method for positive and developmental feedback. The STAR method focuses on the behavior instead of the person. This approach ensures those who are already in an underrepresented group don't feel targeted in addition to feeling like they're not a part of the "in" group.
Our advice: Feedback that comes from only one source can be biased. Obtaining from multiple sources (customer, colleagues, direct reports) and requesting both positive feedback and feedback for improvement can reduce the likelihood of bias.
Ultimately, it's the leader's job to build a culture of ongoing feedback. This is the most effective way to reduce bias. The more diverse group of feedback providers, the better the picture of someone's true performance.
6. Coach for Growth
What we hear: Leaders tend to feel most comfortable coaching people like themselves.
What to do: Leaders gravitate towards coaching people like themselves. By avoiding coaching people who are different from them—whether because of gender, background, age, or some other factor—leaders limit others' chances for advancement.
Authentic listening is a critical trait of an effective coach. Proficient leaders listen for content, intent, and emotions. When done well, the leader knows when and where to show empathy. It's also imperative for the coach to share their own perspective.
Our advice: Leaders who share stories about themselves can make a powerful connection with their employees. This demonstrates to everyone else that it's safe to do the same. It also builds trust, opens the discussion, and enriches understanding of differences.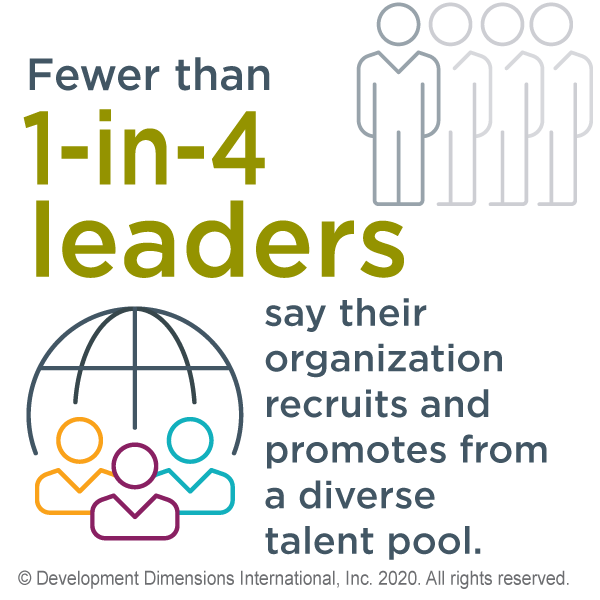 7. Resolve Conflict Fairly
What we hear: Managers try to avoid conflict and often resolve it by trying to maintain the status quo.
What to do: Conflict is natural and necessary for better decision making. After all, everyone has different experiences, points of view, preconceptions, styles, abilities, and motivations. What's important is that leaders make sure that multiple viewpoints are heard and evaluated.
To do this, it's important for leaders to define and explore both types of diversity (identity and cognitive) with their teams. This can establish a strong foundation of understanding and valuing differences within the team and with others in the company.
Our advice: Nurturing these differences helps people feel appreciate and engaged. It can also help build their commitment to contributing to the team and the company. And with a team who understands diversity and has an inclusive mind-set, it will be less likely that differences escalate into conflicts.
How to Create an Inclusive Environment: Create Great Leaders
The most critical part of how to create an inclusive environment is practicing it intentionally every single day. These micro-moments add up to create a culture of fairness, inclusion, and simply great leadership.
At the same time, we need to recognize that we are in this for the long haul. And some days, we will make mistakes.
That's why I recommend one more essential leadership behavior: the ability to give yourself grace. When you allow yourself room to fail, powerful learning is often the result. Give yourself and your team the space for things to go wrong. Transform mistakes into moments of empowerment.
For more on how to create an inclusive environment, including data and best practices, download our diversity and inclusion infographic. To learn more about our solutions, download an overview.
Meagan Aaron is a managing consultant for DDI's US Operations where she started 24 years ago as an intern. When she's not leading account teams or coaching executives, Meagan can be found designing flower creations for weddings or the home. Living in Memphis has provided her a community to apply her gifts and talents by coaching women business owners and upskilling leaders at nonprofits like the Memphis Metro YMCA.