Right now, companies are telling us they've had the lowest leadership bench strength they've ever had. Our Global Leadership Forecast 2021 revealed only 11% of companies have a strong bench. Why is this happening? One of the problems is that companies aren't appropriately accelerating their high-potential talent for the challenges we face today.
And to be sure you have the talent you need at higher levels of leadership, you need to identify high potentials early, starting with your emerging leaders. In this blog, we'll help you identify key challenges in identifying your high-potential emerging leaders, and how to start investing in them.
What Is High-Potential Talent?
First, let's define high-potential talent. Simply, high-potential talent is someone who has the likelihood and ability to accelerate their growth to rapidly develop toward a future leadership role. The term can be used for people at any level, from individual contributors up to high-level executives. What's important is that these are the people you are identifying to invest differentially for growth to fill your leadership pipeline.
Performance vs. Potential vs. Readiness
One of the key challenges is aligning the organization to understand the difference between performance, potential, and readiness. Performance is a measure of how someone is doing in their current role. Often, however, managers confuse performance and potential. They assume that a high performer automatically has growth potential and future ability to excel as a leader.
While sometimes that's true, often high performers are experts at their current level. They don't have the motivation, temperament, and/or skill to lead, yet many organizations invest in their top subject matter experts only to find that both the individual and their teams are dissatisfied in a leadership role.
Readiness is more straightforward as it relates to how well someone fits a specific role or job type right now. That said, many organizations, and their leaders, struggle mightily with determining when someone is "ready." A better question to ask is if the individual is "ready enough with support" to stretch into the next assignment.
Additionally, you need to ask how far out you are attempting to invest in your top talent. Some organizations will confuse readiness, the likelihood to perform well in the next level, with potential. Unfortunately, this mistake leads to investment in those who are likely "ready enough" and leaves out the "diamonds in the rough" who will see tremendous growth over longer periods of time.
Understanding these definitions and adopting a common language is one of the most critical steps in developing high-potential talent. If you don't select the right people in your high-potential program today, you have almost no chance of having the leaders you need for the future.
Diversity in Your High-Potential Pool
Before we dive into the challenges of identifying and developing emerging leaders, we want to take a moment to talk about diversity. Rather than as an afterthought, it should be front and center as you think about developing high-potential talent.
One of the reasons companies fail to meet their diversity goals is that they don't have diversity in their high-potential talent. For example, it's no surprise that companies struggle to find qualified women for C-suite roles when they haven't invested in developing women leaders at lower levels.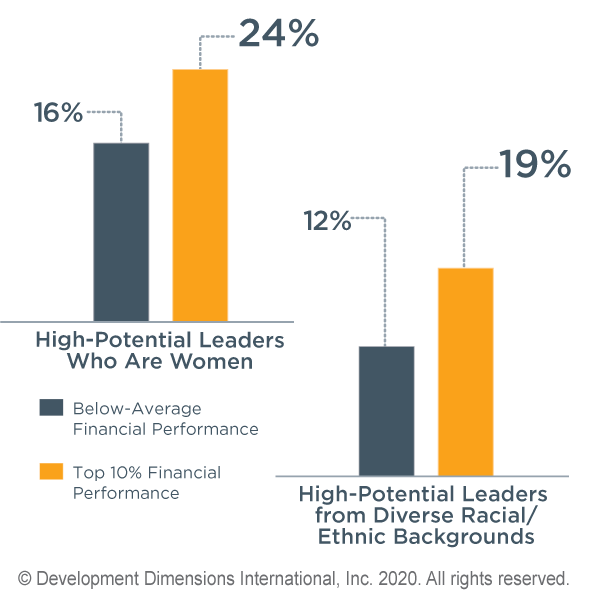 But what do we mean by diversity? It includes both identity diversity and cognitive diversity:
Identity diversity includes characteristics like a person's age, gender, or ethnic background.
Cognitive diversity includes a range in thinking related to things like personality, educational and professional experiences, and a person's mindset.
Imagine how it could change your culture to have a truly diverse group of people who bring different mindsets and perspectives to the table. Imagine diverse groups exchanging ideas, solving problems, and even arguing different points in a constructive way. When you have group dynamics like that, it's no wonder that companies with strong diversity and inclusion perform better financially.
According to DDI's Diversity & Inclusion Report 2020, organizations in the top 10% for financial performance reported that 24% of their high-potential leaders are women, and 19% are from diverse racial/ethnic backgrounds. In comparison, organizations with below-average financial performance report only 16% of high-potential leaders are women, and 12% are people from diverse racial/ethnic backgrounds.
The bottom line? You need to start early to ensure diversity in your high-potential talent pool. There is no substitute for providing growth experiences, assignments, mentoring, development, and more to minorities earlier in their career to level the playing field for higher roles.
7 Challenges in Identifying and Developing Emerging Leadership Potential
Here are seven challenges that can make identifying and developing emerging leadership potential difficult and how you can avoid them:
1. There's a huge volume of people.
It can be overwhelming to look at the entire population of individual contributors to spot leadership potential. That's why so many companies rely on managers to identify high-potential leaders (see next point). But you can put a number of systems in place, such as scalable assessments, that supplement manager ratings and help you look quickly and broadly across your individual contributors.
2. Only managers can evaluate for potential.
As mentioned above, many companies rely on managers to identify leadership potential. After all, managers are the only ones who have really seen these employees in action. But most managers haven't had any training on how to look for potential, avoid biases, and differentiate against performance and readiness. Without the right training and accountability, managers will fall back on the way they know best: looking at performance in the current role to determine potential for growth.
3. No clear definition of leadership potential.
It's common that managers aren't using one clear, agreed-upon definition for what it means to have leadership potential. So, they're each left to come up with their own definition, which introduces inconsistency and inefficiency. This also makes your identification process ripe for bias as most managers will simply pick people who remind them of themselves or of other current leaders.
4. Training isn't focused on leadership.
Training and development for individual contributors is often focused on helping them get better within their current role. For example, they might be attending conferences in their field or getting additional certifications. While this isn't a bad thing necessarily, it often comes at the expense of developing the leadership skills high potentials need to be successful in a future leadership position. We must democratize leadership development and starting with high potentials is the next step.
5. Difficulty providing leadership exposure.
It's great that you have identified leadership potential, but what are you doing to get these people ready for their next role? Often, development may be happening in the form of coursework, but this isn't real exposure to leadership. What high potentials need is on-the-job training or the opportunity to "try on" leadership in a role simulation.
And usually, it's even harder for organizations to get individual contributors leadership exposure, but bringing focus to this group is necessary. Don't forget to include stretch assignments and other forms of leadership experience in the development plans for your early high potentials.
6. Managers aren't trained to accelerate high potentials.
Once a high-potential leader is identified, it's often up to their manager to spearhead their acceleration and development. But few leaders are trained to do this. This creates inconsistent development across the organization, and it can also be very time consuming for managers. As a result, it hurts the quality of the development and employee engagement.
7. Leadership assessments are rarely used.
Given the high volume of people and informal approach, many companies don't use assessments for leadership potential. But assessments are crucial. They help you to incorporate objectivity and find potential in talented people you otherwise might have missed. In addition, they can help give leaders specific direction about each potential leader's strengths and challenges so they can guide their development with more intention.
Watch for Burnout of High-Potential Employees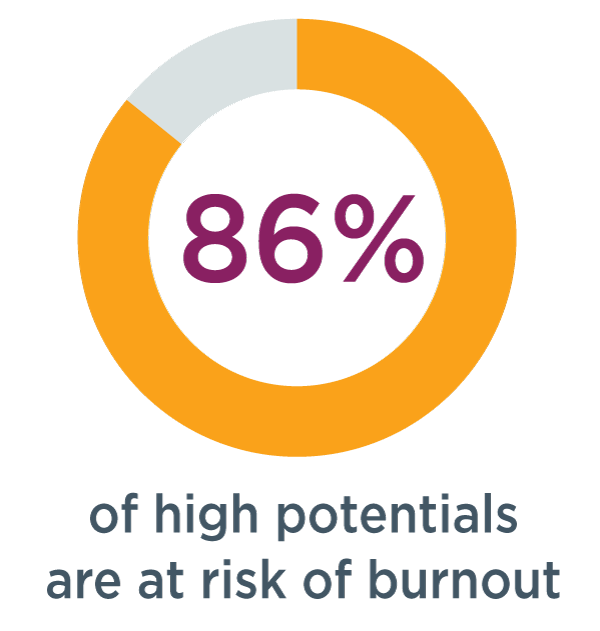 A word of warning: Once you've identified and start to develop your high-potential employees, beware of burning them out. These are the employees you want to retain most, but it's easy to take advantage of them.
Because they tend to be high achievers and hard workers, it's easy to ask them to take on more. And most likely, they'll say yes.
According to our Global Leadership Forecast 2021 where we surveyed more than 1,000 high-potential employees, 86% reported feeling used up at the end of their workday, much higher rates than any other population. And women, in particular, are also burning out at alarmingly higher rates.
But what's even worse is that it's common for high potentials to struggle in silence. Afraid of losing out on an opportunity, they may say nothing about their challenges. Instead, they may conclude that another job is the only way out. So you may not know that they are struggling until they leave.
Invest in High Potentials Early
The future of your organization depends on your leadership. That's why it's important you have a bench of ready-now leaders. To get there, you need to know who in your organization has the potential to lead. And then once you find them, invest in their development early.
Developing high-potential talent can't be an afterthought and it can't be left to chance. But with the right strategy and tools, you can objectively identify leadership potential and get objective insights to target development. That way, your emerging leaders will have everything they need to succeed today—and tomorrow.
To learn more, view our high-potential leadership webinar series.
Kevin Tamanini, Ph.D., is the Director of Consulting in DDI's US Operations team. Based in Pittsburgh, Kevin has been with DDI for more than 13 years and has worked across product development, sales, and consulting roles to help clients solve their leadership challenges. When Kevin isn't leading the consulting services organization or working directly with DDI clients, he can be found on either the golf course, at one of his kid's sporting events, or working on an endless list of home projects. If you have any leadership challenges and need creative solutions, or general tips on how to hit a golf ball straight, please get in touch: kevin.tamanini@ddiworld.com.
Adam Taylor is a reformed child psychologist who found his place in industrial-organizational psychology and DDI. Based out of the Seattle area, Adam heads DDI's Enterprise Client Success Practice and thrives supporting the implementation of multifaceted leadership programs for DDI's global partners. He's excited that diversity and acceleration are more frequently being discussed in the workplace, and he truly believes that if we start earlier and use proven practices, we have the power to impact many and influence communities, all while driving the business.
Topics covered in this blog