DDI Named to Training Industry's Top 20 Leadership Training Companies for Eleventh Time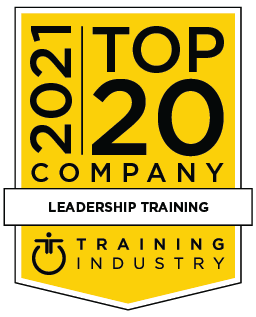 For the eleventh time, Training Industry named DDI to its list of Top 20 Leadership Training Companies for the leadership training sector of the learning and development market.
Training Industry prepares the Training Industry Top 20 report on critical sectors of the corporate training marketplace to better inform professionals about the best and most innovative providers of training services and technologies.
"Part of one of the most competitive and closely watched training sectors, this year's Top 20 Leadership Training Companies are leading the way by providing businesses with strategic and inventive leadership development offerings to meet the needs of an uncertain market," said Ken Taylor, president of Training Industry, Inc. "These companies continue to adjust and expand their topic offerings to deliver the training that companies have needed over the past year, including employee motivation, teamwork and agile leadership."
The selection of the 2021 Training Industry Top 20 Leadership Training Companies List was based on the following criteria:
Breadth and quality of programs and services, and audiences served.
Ability to deliver training in preferred modalities.
Industry visibility, innovation and impact.
Strength of clients and geographic reach.
Company size and growth potential.
"After an unprecedented year wracked with challenges for organizations and leaders of every level, we're honored to be selected for Training Industry's 2021 Top 20 Leadership Training Companies," said Tacy Byham, Ph.D., chief executive officer of DDI. "Effective leaders are so important in such an unpredictable economic climate. Our goal is to help companies ensure their leaders are prepared and effective by offering truly meaningful and impactful leadership development opportunities."
About Training Industry, Inc.
Training Industry is the most trusted source of information on the business of learning. Our authority is built on deep ties with more than 450 expert contributors who share insights and actionable information with their peers. Training Industry's live events, articles, magazine, webinars, podcast, research and reports generate more than 7.7 million industry interactions each year, while the Top 20 Training Companies Lists help business leaders find the right training partners.
About DDI
DDI is a global leadership consulting firm that helps organizations hire, promote and develop exceptional leaders. From first-time managers to C-suite executives, DDI is by leaders' sides, supporting them in every critical moment of leadership. Built on five decades of research and experience in the science of leadership, DDI's evidence-based assessment and development solutions enable millions of leaders around the world to succeed, propelling their organizations to new heights. For more information, visit ddiworld.com.